It is with enormous regret that today (5th August 2020) we are cancelling The Road to the Isles Events: Traigh Triathlon, scheduled for Sunday 20th September 2020.
After much deliberation, and facing the unprecedented situation with COVID-19, public health has to be our top priority. In the best interests of our staff, our volunteers, and the community, and in order to reduce risk of spreading infection, the Centre has been closed since 20th March, and will remain closed until at least 14th September. Triathlon Scotland has suspended all its own events until further notice, so despite hoping at the beginning of July that we might have been able to go ahead, the most recent events have overtaken us. We appreciate the disappointment with so many races the length of the country being cancelled. We're really grateful to our volunteers who have worked so hard on race logistics and are now going through the process of dismantling it.
You'll know that our events are designed to financially support our local Leisure Centre, Mallaig Pool & Leisure, a registered Scottish Charity and Social Enterprise. The Centre was built by the community to provide all local children with the opportunity to learn to swim – vital for those living in a coastal area. It is the only Leisure Centre within 50-miles and a really important asset for healthy living when our climate often prevents outdoor leisure pursuits.
Mallaig Pool & Leisure, like so many other small businesses, is in uncharted territory and will be closed for a minimum of six months. The Centre provides employment for eight full-time and part-time staff who are furloughed. The rateable value of the building is £76k, so far out-with the upper level for qualifying for Scottish Government grant support. We are a small charitable business in a large building with a swimming pool.   
We are now organised and able to offer those of you who signed up for the Triathlon to receive a refund of their entry fee, minus their administration fee. This may take a bit of time as our events are run by volunteers who have had their own hardships during the Coronavirus pandemic. Please bear with us.
The loss of this income will have a big impact on Mallaig Pool for the coming year and beyond, if you'd like to support our small charity, then we're also delighted to accept your entry fee as a donation.  Equally so, if you are not in a position to donate your entry fee then we totally understand and will be more than happy to issue a refund. Please let us know what you want to do via our quick online questionnaire – click here Traigh-athlon Entry Fee (it will take around 15 seconds to complete!). If we have not heard from you by Sunday 16th August we will send you a refund.
It's going to be a long road to recovery for many individuals and businesses. We hope you'll be able to support us for future races and we'll see you next year when the Road to the Isles Traigh Triathlon will return on Sunday 26th September 2021. We will announce when entries are open for next year via our Newsletter and on our social media pages – so let's look forward with positivity.
Thank you as ever for all your support for which we have been overwhelmed. We'll get through this difficult period and be back stronger and healthier.
Be active – Stay active; Keep well – Keep happy
We'll see you back soon
With warm regards,
RTTI Events Team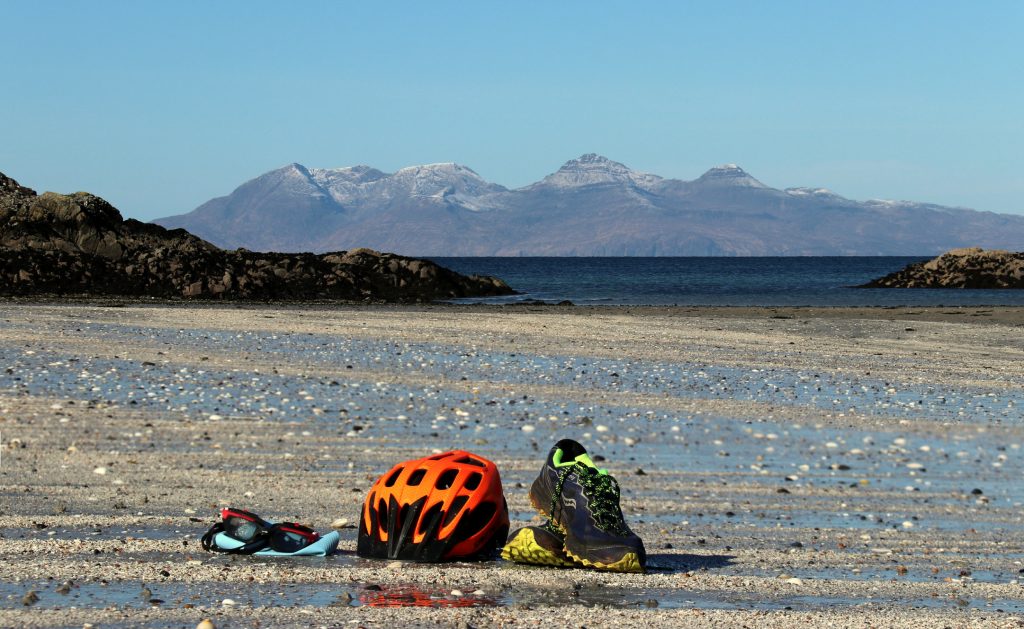 The Traighathlons explained:
Swim, ride and run against a backdrop of one of Scotland's most iconic land and seascapes
Triaghathlon 2019 was a big success for Mallaig Pool & Leisure's Road to the Isles Events Team, and we're delighted to say that for 2021 we'll be doing it all over again. On 26th September 2021, we'll once again deliver a unique, challenging and affordable series of multiple distance triathlons based along the stunning Road to the Isles. This wild and rugged natural playground will not disappoint with both novice and experienced triathletes catered for!
Base camp is beautiful Traigh Beach, sandwiched between the coastal towns of Arisaig and Morar, with breath-taking views to the Small Isles of Rhum, Eigg & the Cuillins of Skye. Spectacular white beaches, dramatic shorelines and the changing colours of the Atlantic Ocean are set against a backdrop of brooding majestic mountains.
This amazing location, coupled with a great spectator friendly course, make the Traighathlon Series 2021 the ideal sports destination for the entire family. By hosting a series of multiple distance triathlons we hope to cater for the complete cross-section of competitors from first time triathletes through to national team athletes who really want to push boundaries!
The day will be split into three concurrent events of varying distances (please click on the highlighted 'bike ride' and 'run' links for route maps):
The Try a Tri at Traigh (£25): This event is suitable for complete novices and first-timers and incorporates a 400m heated indoor swim, a 10km bike ride and a 2.5km run.
The Sprint Traighathlon (£35): This event is suitable for both beginners and experienced triathletes. The sprint incorporates a 750m open water swim, a 20km bike ride and a 5km run.
The event can be completed by individuals or as relay teams where each team member completes a single discipline.
Mallaig Pool & Leisure is a social enterprise run by a dedicated team and volunteers from the community. Road to the Isles Events is run by Mallaig Pool and all profit from the Triaghathlon will go directly towards our exciting refurbishment project to include a brand new cafe. Thank you so much for your support. Sign up, tell your friends, bring your family and we look forward to seeing you on Sunday 26th September 2021. Let the training begin.
---
Traighathlon Series 2019
Results
2019 Results can be found here
Photos
Coming soon!
Traighathlon Series 2018
A massive thank you to all participants, sponsors, helpers and marshals who combined to make our Traighathlon such a huge success! Despite the wild weather, the feedback from the event has been really positive!
Traighathlon Series 2017