Swimming Pool
Our 20m x 10m swimming pool (0.9m shallow end/1.9 deep end) is heated to 29 degrees and affords beautiful views out over the Atlantic towards the Small Isles.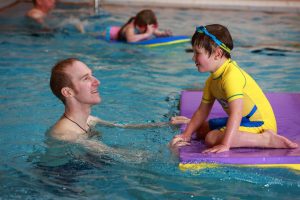 Whether you swim for fitness, relaxation or fun, swimming is one of the best ways to keep active.  As a low impact sport, swimming is suitable for everybody so why not come and dive in!    Although we don't set up lanes during public swimming sessions, please ask a lifeguard if you'd prefer a lane and we can easily arrange this for you.  We offer group and private swimming lessons, ladies night (Thursdays between 7pm – 8pm), fun hour and Tots & Toddlers swimming (Fridays at 11.30am).  You can also hire the swimming pool for exclusive use for pool parties or water based training:
Standard pool hire: £82.50/hr*
Treasure Island inflatable, or floats & rafts: £90.75/hr*
(*Prices for up to 20 people. A supplement of £17.40 is necessary for every additional multiple of 10 people for us to meet lifeguard requirements.)
Spa & Sauna
Situated overlooking the swimming pool, the jacuzzi and sauna comfortably accommodate six adults and make for the perfect way to end
a swim/gym session.  The 38 degrees jacuzzi and 40 degrees sauna can improve circulation, alleviate joint and muscle pain, decrease anxiety and relieve stress.
Swim Training

We have swim training and lane swimming on a Wednesday night from 7pm-8pm for anyone that just wants to swim lengths on their own or we have a coach there to help if you would like to improve your technique or stroke. If you are training for a triathlon or just wanting some training then our coach is there with a training programme for you to follow.