Swimming Pool
Our 20m x 10m swimming pool (0.9m shallow end/1.9 deep end) is heated to 29 degrees and affords beautiful views out over the Atlantic towards the Small Isles.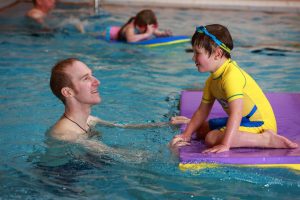 Whether you swim for fitness, relaxation or fun, swimming is one of the best ways to keep active.  As a low impact sport, swimming is suitable for everybody so why not come and dive in!
The following measures are necessary to help minimise the spread of covid-19, please read them carefully before attending your activities. We thank you for your understanding and co-operation.
All Pool sessions are set in 1-hour slots; please be aware that this time includes the time spent changing in/out of your swimming costume. We encourage you to come pre-showered and dressed ready to swim, and to leave for home directly after the swim (please make sure you are dry and warm before going outdoors). The pool and changing room areas MUST be vacated within this 1-hour slot to allow our staff to clean and sanitise them.
To comply with our new hygiene measures we would like to ask you to leave your outdoor footwear outside the changing rooms in the dedicated area, or use the blue shoe covers over your shoes.
'Recreational swimming' (open session) are in place again with one lane permanently in position. This means that swimmers can choose whether they swim in a lane, or 'recreationally' share the pool with other users.
We strongly encourage everyone to 'Give Space' when using and moving around our Leisure Centre. Please be courteous and patient with other facility users, and make sure there is space for you before entering any of the areas. 
Spa & Sauna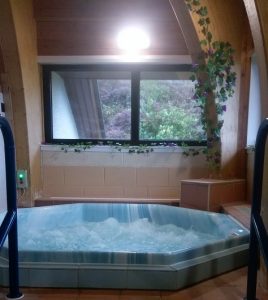 The Spa and Sauna are situated overlooking the pool. It is known that a 38 degrees spa and 40 degrees sauna can improve circulation, alleviate joint and muscle pain, decrease anxiety and relieve stress; we can't think of many other better places to spend time after a swim, gym session or a fitness class.
We are looking forward to your visit, and hope you have a fun filled, and a relaxing time with us.
Be active, stay active 🙏💜