A huge THANK YOU to all our members for your support!
Membership at Mallaig Pool & Leisure
At Mallaig Pool & Leisure, our motto is Be Active, Stay Active because we think that the secret to being fit and healthy is to feel that you want to exercise, not that you have to!
With this in mind, we've decided to raise the roof on the service we currently offer the community in order to encourage you all to want to come up and use our facilities. 
After researching the simplest and most cost effective way to offer the community the opportunity to embrace fitness, we made the decision to buddy up with the people at High Life Highland and take advantage of their brilliant value membership scheme.
So what are you waiting for, choose a membership that fits around your life and enjoy a fitter, healthier and leaner you. 
Download our Membership Application-2023 and drop it off at the Leisure Center, or email it to us and we'll help you get on a great start on your fitness journey.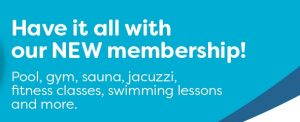 All-Inclusive Membership from 1st April 2023
All-Inclusive Individual Membership – £24.85 per month or £298.20 annual
All-Inclusive Family Membership – £37.40 per month (two adults plus unlimited children in same address) or £448.80 annual
Get unlimited access to all of our services:-
20m heated swimming pool
Sauna
Spa
Gym
Fitness classes
Swimming lessons
Clubs & activities organised by the Leisure Centre – Lifesaver Club, Stroke Academy, Fun Hour, Treasure Island etc
On top of this fantastic deal, you can use your Mallaig Pool & Leisure card to access a host of health, fitness and recreational opportunities in leisure centres throughout the Highlands seven days a week! Therefore, you could drop off the children at the climbing wall at Lochaber Leisure Centre, do your shopping and pick them up on the way home! Check out the list below to see how many centres you can use your Mallaig Pool & Leisure card at:
Alness Swimming Pool, Averon Leisure Centre, Aviemore Community Centre, Badenoch Centre, Black Isle Centre, Craig MacLean Leisure Centre, Dingwall Leisure Centre, The Fingal Centre, Portree, Kyle of Lochalsh Leisure Centre, Gairloch Leisure Centre, Sutherland Swimming Pool, Invergordon Leisure Centre, Inverness Leisure, Inverness Royal Academy Sports Centre, Lochaber Leisure Centre, Lochbroom Leisure Centre, Nairn Leisure Centre, Thurso Swimming Pool, Tain Royal Academy Community Complex and Wick Swimming Pool.
Pay As You Go
Please note, a price increase will come into effect from Monday 17th April 2023.  
ADULT
Swim – £7.30 
Gym – £7.30
Fitness class – £7.30
Sauna – £3.70
Spa – £3.70
Shower (only) – £3.70
Fun Hour with inflatable – £6
Swimming lessons (group) – £13.00   
Swimming lessons (private 1:1) – £18.16
CONCESSION (under 18/ over 60/ student)
Swim – £4.25
Gym – £4.25
Fitness class – £4.25
Sauna – £3.70   
Spa – £3.70   
Shower (only) – £3.70  
Fun Hour with inflatable – £6
Swimming lessons (group) – £6.85   
Swimming lessons (private 1:1) – £18.16
Budget Membership
In an effort to make sure that everybody in the community can access a healthy lifestyle, we have introduced a Budget membership scheme.  So, if your household is entitled to Income Support, Pension Guarantee Credit, Job Seekers Allowance or Employment Support Allowance or if you're an individual on War Disability Pension, Disability Living Allowance, Personal Independence Payment (from 10 June 2013), Attendance Allowance or Carer's Allowance, you can enjoy swim or a fitness class for just 50p.  For instance, you could come and enjoy a fitness class followed by a swim for just £1! Please note, any additional activities, such as sauna or spa are £1 each and Fun Hour with inflatable is £2 per session. 
Visitor Membership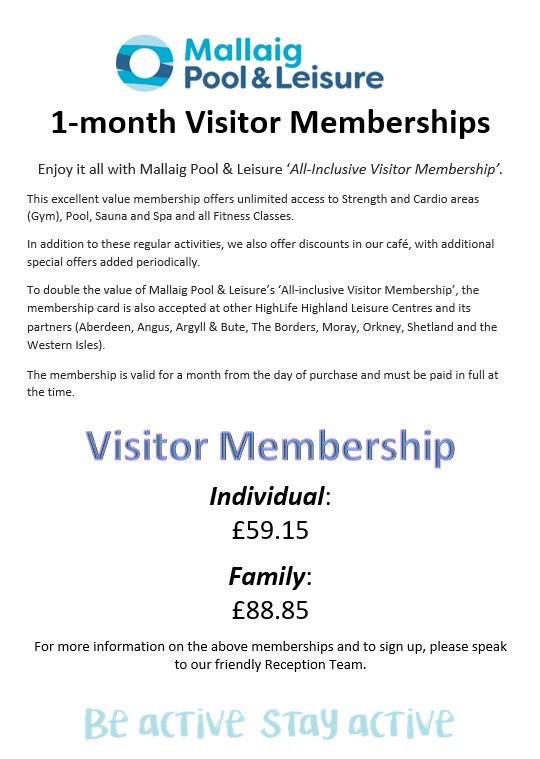 DATA PROTECTION / GDPR: Please note that your information will be used for the purpose(s) you have provided it. Mallaig Pool & Leisure will also use it to plan improvements and to meet our obligations in delivering services on behalf of High Life Highland. This data will be maintained in accordance with the Data Protection Act 1998 / GDPR and will not be passed on or sold to any other organisation without prior approval, unless there is a legal requirement to do so, or to help reduce the spread of covid-19 and to follow 'Protect Scotland' approach.