The Pool Team cannot thank you enough for all your support and the smiles you bring to our Leisure Centre.
Mallaig Pool & Leisure Centre is a charity and Social Enterprise, run by volunteers from the community, our General Manager, Brian O'Rourke, and dedicated staff who ensure the day-to-day running of the facility. We want to provide every member of our community, and visitors alike – young, old, and in-between – with every opportunity to maintain an active and healthy lifestyle. We extend a warm welcome to everyone to use our fantastic local facility, and are happy to provide support and advice to reach your fitness goals on your health journey.
Our small but comprehensive facilities include: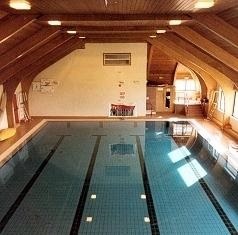 UPDATE ON OUR COVID-19 PROCEDURES
We strongly encourage our members and the public to follow Scottish Government's guidelines regarding social distancing measures, keeping at least a minimum of 1 meter distance when exercising and when in the changing rooms, sauna or spa. We continue to keep our 'Swim Slots' in place; so please be aware, the one-hour slot includes the time you spend in the changing rooms, and thus need to be vacated within the hour to allow time for cleaning and sanitising in-between each session.
'Public Swim sessions are in place again with one lane permanently in position. This means that people can choose whether they swim in a lane, or 'recreationally' share the pool with other users.
We continue to enforce the Scottish Government's 'Track & Trace' approach. All users must leave their contact details, register as a PAYG Member, or have an All-Inclusive Membership. We can accommodate 'walk-in' participation and can welcome shower users. Booking in advance is required for all fitness classes, private swimming lessons, Fun Hour and Block Swimming Lessons. However, we will continue to monitor the user numbers and will retain the option to limit the numbers, or stagger entry and exit times if needed to help maintain social distancing measures.
To maintain our high standards of cleaning and sanitising, the changing rooms will close within the existing timeslots as noted above. The strength and cardio areas are cleaned regularly and users may be asked to vacate these areas while this takes place. Please be patient while our Leisure Attendants ensure we continue to help keep our community free of covid-19. 
Face coverings are still mandatory when moving around the Leisure Centre, and we ask everyone to keep washing hands, use hand sanitiser and sanitise equipment before, and after each use. 
We thank you in advance for your cooperation and patience.
We truly hope this is the 'last leg' of this long journey back to 'normality' and Thank You for your support. If you have any comments, concerns or questions please don't hesitate to contact our Reception Team who is there to help.  
Only enter our premises if you feel well. If you feel unwell, have symptoms or are vulnerable to COVID-19 infection please follow NHS guidance and stay home.
Adhere to our physical distancing signage and directional foot traffic floor markers.
Please use our alcohol-based hand sanitiser on arrival and within the facilities.
Please use the supplied cleaning disinfectant which will be readily available to wipe down any exercise equipment prior to, and post use.
Cover coughs and sneezes with your elbow or a tissue disposing these hygienically.
Place disposable tissues / towels and cleaning materials in a bin immediately after use.
Avoid touching face, eyes, nose and mouth. Wash your hands regularly for at least 20 seconds.
Limit contact with others and avoid close physical contact; no hand shaking/hugging etc.
Bring your own filled water bottle, do not refill this from other sources as taps in changing areas.
Do not share items such as towels, water bottles or headphones.
Avoid putting items such as phones on common surfaces.
Face coverings must be worn when moving around the Leisure Centre
We're here to support your health and fitness journey and being active is the best way to build your immune system, our Reception and Pool Team are looking forward to seeing you, extending a warm welcome to everyone.
Be active, stay active 🙏💜