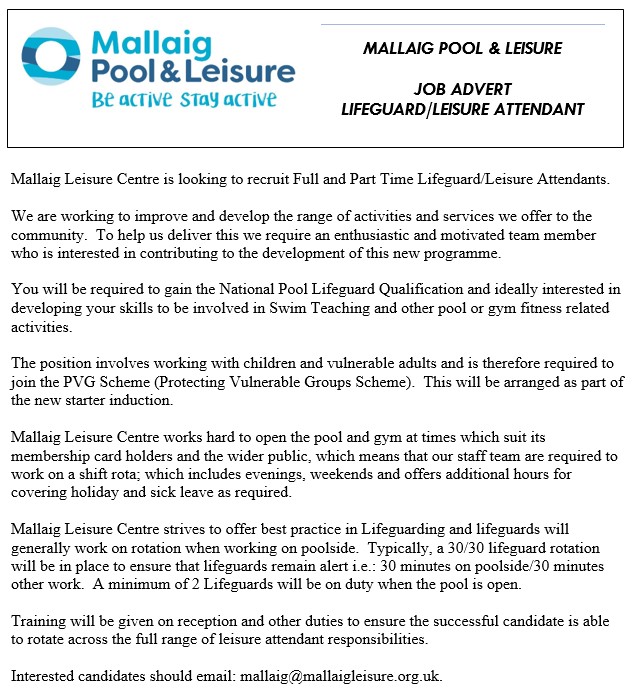 Fun Hour sessions
Our Fun Hour sessions are scheduled on Thursdays and Fridays at 16.00-17.00 and Sundays at 11.30-12.30. Due to a changing timetable, please check these times in advance here. 
Please note, the price of these sessions is included in our 'all-inclusive membership'. 
Pay-as-you-go prices are as follow: 
Floats only session per person: Children & Concession £4.25 / Adults £7.30 / Budget 50p 
Inflatable session per person: Children, Concession & Adults £6 / Budget £2
Please note: all Fun Hour sessions must be booked in advance, to allow disappointment. Please book by phone 01687 462229 or send a message via Mallaig Pool & Leisure Facebook page. If you have an all-inclusive membership with Mallaig Pool & Leisure, you can book via our Online booking 
Inflatable rules and guidelines 
Please be considerate and take care when playing on our big inflatable. The following rules and guidelines will help everyone have fun safely. 
Full length of the inflatable should be used only if competent and confident swimming in the deep end of the pool (1.9m). Please be aware that Mallaig Pool & Leisure Lifeguard may assess individuals accordingly.
Non-swimmers should keep to the shallow end of the pool (1m-1.3m). They should come off the course when reaching the 'entry gates' to the hanging ball.
All swimmers should keep to the right side of the inflatable during the session.
In the water, please keep at least 1.5m away from the side of the inflatable.
Before going down the slide, please make sure the landing at the bottom of the slide is clear.
Going down the slide, please sit up right or lie on your tummy facing forward.
Children under 8 years must be accompanied by a responsible adult over 16 years; ratio 2 children/1 adult.
Swimming Lessons
Private Swimming Lessons 
Private Swimming Lessons for children and adults are available Tuesdays 16.00-17.00. Each lesson is 30 minutes, and will be tailored to individual's needs and abilities. For more information, and to book a slot, please contact our Reception Team. 
Block Swimming Lessons 
The Block Swimming Lessons take place during school-term times. However, please note, due to staff shortages these sessions have been postponed until further notice. 
Block Swimming lessons are offered for children from 3 years onward on Mondays and Wednesdays 3pm-5pm, and Fridays 3pm-4pm. To express interest, and for more information, please contact our Reception Team. 
Swim Training
Our Swim Training is organised for anyone under 18 years who are competent and confident in swimming lengths and in the deep end.
Please get in touch with our friendly Reception Team for further information and if you would like to book a place to join.
Wise Craic – over 55's only
Tuesday Morning's from 11:00am, exclusive use to our facilities. 
Are you over 55 and would love to go swimming but feel intimidated by all the young ones?  Not sure about your abilities?
Don't let these things put you off.
Our Wise Craic group meets every week on a Tuesday morning from 11:00am and you get exclusive use of the swimming pool and the gym areas.  No one under the age of 55 can come in during that time
If you want some extra help and advice with your swimming techniques and stroke, or wish to build up your stamina, our Swim Teacher / Coach is there to support you. We can also offer Private Swimming Lessons during this time. For more information and to book a slot, please contact our friendly Reception Team.